This week the Super Kids focused on "How To" Writing.  We looked at recipes, craft books, and any other books our librarians could find that had instruction language.  We noticed that they all used first and next when describing steps, many had a materials needed list, and most had photograph pictures instead of drawings.  After creating an example together called "How To Be A Great Friend",  the class began their own writing pieces.  They are off to a great start!  Topics include: How To Make Noodles, How To Make A Book, How To Make Hot Chocolate, and How To Walk My Dog.  We'll share some of our writing on our blog when we have finished them.  After all, the blog is on our list of who we want to share our writing with.  The kids are learning that writing takes time and they are excited to expand on their ideas.
Our class was invited to the school's "Make Tank" this week to create valentine cards that will be sent to shelters across Canada.  Everyone needs a little something special and the Super Kids were thrilled to make the cards.  One student said,  " Mrs. Didyk, maybe my card will make them smile!"  Perfect!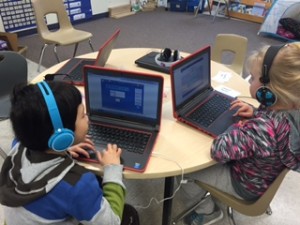 Our classroom recently got licences for the Dreambox website.  This is a math website that works on number sense through activities that are engaging and skill based.  Wow!  What a hit with the kids!
Three more passion projects were presented this week.  One Super Kid created a power point about the Earth, another created a poster about turtles, and another explained the steps to making soap with her photo story!  I can't say it enough…these kids amaze me!
Enjoy the rest of the weekend.  🙂