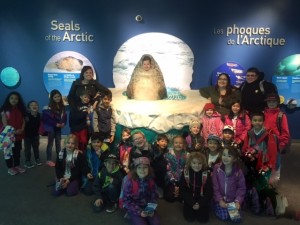 Our class had a wonderful day at the Assiniboine Zoo today!  We spent the day learning about animal adaptions with our zoo leader.  She taught us how animals adapt to their different habitats.  After showing us the Manitoba bison, arctic fox, and bald eagle, we headed into Toucan Ridge.
Toucan Ridge is a topical house where you can find different animals that can be found in the rainforest.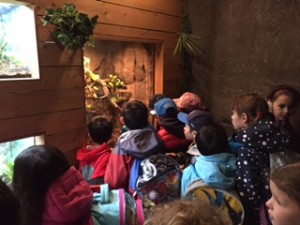 We were thrilled to see squirrel monkeys, sloths, red tree pandas, and even an ocelot.  We did see a toucan, but I didn't get a good picture of it.  We also were the first people to be told that the sloths are going to have babies!  After exploring the different flowers and trees in this habitat, we headed to the zoo classroom for some more activities.
Our zoo leader knew that we are learning about the rainforest, so she made sure to share how different rainforest animals adapt to their environments.  We then broke into four groups and created an animal that could live in the desert, rainforest, ocean, and arctic with different materials provided.  The Super Kids had to explain why the animal had that adaptation.  Four brave students volunteered and we got to work.  It was great to see them put their new found knowledge to work.  For example, the rainforest animal had large eyes to see in the dark, the ocean animal had a blow hole, the desert animal had humps to store water, and the arctic animal had white fur.  By this time, we were a hungry group!  It was off to eat lunch with the polar bears!  We got to eat our lunches at Tundra Grill, where if your lucky, you can see the polar bears roaming.  We saw three polar bears while eating!  One even came over to the glass just to rub his back end.  He must have been itchy.  The class had a good laugh at that!  After eating we had a play at the Polar Bear Play Park.
Next we headed to see some more arctic animals.  The seals were very active! If you know what I mean 😉 The Super Kids thought it was funny how they keeps chasing each other.
Before heading back to school, we explored the Discovery Centre and walk around the other side of the zoo to see lots of exciting animals.
The Super Kids should be an exhausted group tonight.  Thank you to those who joined us to help make our field trip a great experience.