This week was full of activities where the Super Kids could share their passions and learning with others!  We welcomed many of the student's grandparents for senior's day.  The seniors that joined us in the morning jumped in and played many different math games with us.  The visitors that joined us in the afternoon went with us to the school's library and participated in several literacy centres when we got back to the classroom.
We welcomed Mr. Magill back to our classroom for senior's day. He joined us for Remembrance day earlier in the school year and shared his thoughts as a WWII veteran. Just the other day he was honoured for his service by being knighted!  He was awarded with the rank of "Knight Of The Order Of The Legion Of Honour" from France.  You might have seen him on the nightly news or in the newspaper.  He brought his medal for us to see.  When he came into our classroom we started clapping and welcomed him by calling him "Sir".  After all, that's what knights are supposed to be called according to our research!
Check out the video below. Jet is chirping at the egg and Rosie is still inside. If you listen carefully you can hear her chirping back. Jet puts her head on the egg to listen.  🙂
The eggs are hatching!  The chicken eggs we have been observing started to hatch on  Thursday.  We couldn't have been more excited to welcome these three little cuties.  Their names are Jet, Rosie and Fluffy.  A big thank you to Mrs. G's class for letting us pick chick number 2's name. We choose Rosie because we love the book "Rosie Revere Engineer". This got some attention from the author of "Rose Revere Engineer" on Twitter.  One student said, "Two famous authors know our class! We're famous!" He was referring to our correspondence with Paulette Bourgeois the author of the Franklin series and now Andrea Beaty.
April has been "I Love To Read" month at our school.  We welcomed Mr. Bell, our Vice Principal, into our classroom to read to us.  He brought a book from his trip to Iceland and a book that he enjoyed as a little boy.  I love when adults share their favourite childhood books with kids.  You can ask any of my students throughout my years of teaching.  What is Mrs. Didyk's favourite book?  They all will say the same thing,  "Alexander And The Terrible Horrible No Good Very Bad Day" by Judith Vott.  I would take it out of my school's library every time until my mom finally bought it for me the next time we went to a book store.  That was a big deal because I lived in a small town in Manitoba without a book store.  I can still recite every word of it and I would have dressed up as Alexander for character day, if I could only find railroad train adult PJs.  You get my point.  It's so important for kids to see and hear the love of reading from the adults in their lives.  What was your favourite book as a kid? Have you read it to your child?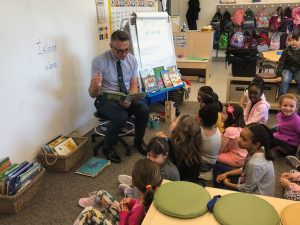 All the kids from K-3 got together in the gym for a few friendly games of book bingo on Thursday.
Friday afternoon was the first of four afternoons called "Explorations". Students had the opportunity to pick their top four choices from a menu of activities run by the staff in our school.  Groups included cooking, soup making, gymnastics, gardening, STEM activities, coding, Mindcraft, and many more. Each student was placed in one of their top four sections.  There was so much excitement!  I ran a group called Storybook STEM.  Each week we are reading a storybook that inspires a hand on creative task.  This week we read "Iggy Peck Architect" that inspired structures.
The Super Kids came back from their explorations happy and excited to share their experiences.
I wanted to thank our school's PAC for organizing a wonderful day for the staff on Thursday.  We were treated to many treats and goodies throughout the day and a special lunch from The Old Spaghetti Factory.  It's nice to be appreciated and the staff was blown away by your generosity.
On top of all that excitement, we learned a new math game to help our developing math sense, research different classifications of animals with the Pebble Go website, classified foods into food groups, and learned how milk gets from a cow to our fridge.  Just another week in the Super Kid classroom! 🙂