Our journey learning the science principles of force and motion through our history of showmanship theme continues as we prepare for our upcoming school's exhibition!  Every year our school puts on an exhibition to showcase each classroom's learning.  Having an audience to share our learning with is exciting and provides our class with a goal.  The kids are so excited to have our families join us in a few weeks.  There is a lot to do, but we're up for the challenge!
The Super Kids created our own "Juggling Jesters".  Since we are practicing juggling scarves it just made sense.  The project included a direct drawing lesson, a focus on warm and cool colours, primary and secondary colour mixing, and how to show movement in art.  It took a few days, but we're thrilled with the result.
The class came into school one morning with a STEM challenge.  Could they design an incline plane or ramp that would make their toy car go farther then the other group's car.  The challenge was on!  Both group worked hard creating their incline planes.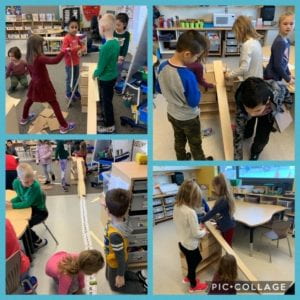 The class has learned about so many simple machines, we had to make sure we could sort and identify them as we go.  One of the stations in our classroom carnival will be sorting these pictures with our families.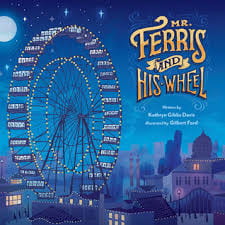 Did you know that a Ferris Wheel was named after it's inventor? George Ferris Jr. invented it for the 1896 Chicago World Fair.  After introducing the book to the class, the first thing one Super Kid said was "It's a big wheel and axle!".  The kids were fascinated by how it worked and if Ferris wheels today work the same way.  We then examined the one of the most famous Ferris Wheels in the world, The London Eye.  More people visit it then visit the Egyptian pyramids.  Who knew? England happened to be our next stop on our showmanship timeline adventure.  A man in England discovered that if you rode horses in a circle acrobats could do tricks easier.  That's why circus' are performed in a ring!  We dove into why it' easier and learned all about centrifugal force.  Check out the videos below to see our experiments.
Using our knowledge of 2D and 3D shapes, as well as our understand of the Ferris wheel, students created their own London skylines.  Once they were drawn, the Super Kids traced their lines with black Crayola marker, and then carefully painted with water over the lines.  Crayola markers are not waterproof so it gave us a rainy day London look.  Lastly students cut out red double decker buses and phone booths.  The picture below do not show the final step, but later in the blog you can see the final result in the background of a 100 day picture.
One Super Kid brought his drone from home to show the wheel spinning in it to help it work. I tried to fly it, but I'm not as talented as my student. I crashed it into the window.  Don't worry…it didn't break.  Thank goodness. 🙂
The 100th day of school happened to fall on Valentine's Day.  We celebrated the 100th day of school in the morning and Valentine's/Friendship Day in the afternoon.  The students walked in dressed in their 100th day shirts to me dressed as a secret agent!  We had a problem…someone stole all the 0s from our classroom and we were stuck on day 99.  What were we going to do?  Each student had to enter the classroom by having their fingerprints scanned.
They had a mission.  The Super Kids put on their junior secret agent badges and listened to the message left by Agent 99.  They had to complete tasks in each of the 5 1/2 English classrooms and the 3 grade 1 French Immersion classrooms to earn a clue to finding our 0s.  Each task completed earned them a word.  Tasks included fingerprint activities in our classroom, a laser number hunt, uncovering secret coded messages and much more. Once completed the class unscrambled the words to form a clue.  "You will find your zeros where you borrow books."  The kids all shouted, "The library!"  We ran upstairs to confront Mme. Nicole.   She admitted she was Agent 99 and wanted to be included in our 100th day of school celebration.  She gave us back our 0s and told us that she hoped we enjoyed the mission.
In the afternoon we celebrated the friendships formed in our classroom by exchanging Valentines/friendship cards.  I enjoy this day every year.  The kids walk around the room putting their cards in each of their classmate's bags with huge smiles on their faces.  I always give the kids time to open their cards so they can say thank you to each other.  🙂
We read the book Stick and Stone by Beth Ferry.  It's about a friendship between a stick and a stone and how they help each other.  We then played the guessing game stick and stone.  Who knew that this would be such a hit!  We played for 45 minutes.
Our math centers have included games with a heart theme that help us develop our number sense by practicing our doubles, counting up and back, and place value.
Our journey continued to Paris.  We learned that circus' performers began adding small animals and more acts.  What is a symbol of Paris? The Eiffel Tower of course. It was built for the World Fair in 1887.  Using shapes and lines the students painted their own Eiffel Towers.
This past week our school celebrated The Festival Du Voyageur.  It is a festival that takes place in our city, Winnipeg, that celebrates the French culture and history of our community.  Every morning the students in our school entered to fun and festive Voyageur music.  This much fiddle music made us all want to jig!  Unfortunately, the weather this past week didn't cooperate and we were unable to do the outdoor activities planned by our Phys. Ed staff.  They adapted and created some great Festival themed indoor activities complete with some yummy hot chocolate.  The whole school had a delicious pancake lunch on Thursday and were entertained with a concert by Logan Picton.
#SageCreekLRSD students and staff are showing off their jigging skills while @ logan_picton plays great music. #ESCSbelonging pic.twitter.com/Hje4E81MoK

— Marc Poirier (@MarcAPoirier) February 21, 2020
We explored magnets and how they work with our buddies from Mrs. G's classroom.  We've been getting together with them as we prepare for the performace part of our exhibition.  We can't wait to show you what we've been working on!
Our shadow theatre is coming together. Here is a sneak preview of a couple of scene the kids came up with.
Stay tuned…:)