Hi everyone!  I hope all of my Super Kids and their families are staying healthy and safe during this strange time in our world.  We had business as usual on March 12th and then we faced a different reality on the 13th.  The Manitoba government announced that school would be suspended for the week before spring break and the week after due to the coronavirus pandemic.  We were still open the following week, but most families decided to keep their children home.  We went from working so hard on our exhibition show to leaving school.  I feel for my students.  They were so excited to share their learning.  Well, for now we put a pin in our exhibition and continue learning together in a different way.
If you are looking for a way to talk to your kids about what's happening in a kid friendly way, click on the link below.  This video started our conversation last Monday with the kids that were at school.  I hope it helps.
https://www.brainpop.com/health/diseasesinjuriesandconditions/coronavirus/
All five grade 1/2 teachers planned together so our families could have activities to do at home to continue their child's learning.  By using "Padlet", our students can share their learning, answer questions, comment on each other's posts, and listen to me reading stories from my home office.
I'm posting a class favourite each day.  School has never been closed in my 20 years of teaching!  Not even for a snow storm.  My daughter has been doing online learning, baking up a storm, learning to do laundry, and teaching me about online platforms.   This is uncharted territory, but every family is doing their best.  Use this time to read with your kids, bake, go for walk, teach them life skills, and most importantly teach them what really matters… family.   I'm here to help.
This past month the Super Kids have been focusing on creating their simple machine carnival games, completing their shadow theatre, practicing their song with drums, scarves, and light, and so much more.  In honour of all that work, I wanted to share some pictures of the Super Kids working towards their goal.  The process is where the learning happens. 🙂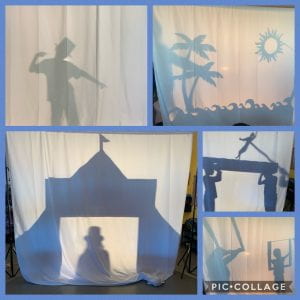 Our shadow theatre that we were going to perform with Mrs. G's classroom this week was a BIG undertaking.  The two classes worked well together and prepared to share the history of showmanship.
We used circus acts for our math stations.  How many times can you spin the plate?  Count by 2s, 5s, and 10s while walking the tightrope. Walk on "stilts" while counting and make numbers for your partner to guess with the ribbons.  Click on the link below to get a peek at all the excitement.
Our journey through the history of showmanship took us to New York.  Mme. Chantall read us "A New York, Chez Mamie".  She read it to use in French and then asked us to help her translate it into English.  What would make sense?  What does it sound like?  Do the picture help us understand?  Then we create our own New York skyline with the buildings refecting in the water.
The circus then got bigger, added bigger animals, and travelled across North America by train.
We explored simple machines throughout our carnival/circus theme with the goal of created our own games.  We watched the YouTube video below called Caine's Arcade. This inspired us to see what we could come up with.
We explored catapults, magnets, marble mazes, and static electricity to help inspire our designs as well as reviewing what we knew from earlier explorations into pulley, levers, incline planes and balance.
Our simple machine carnival games were in full swing when we had to leave our school.  Most groups were on the final steps and testing their designs.  I have a few pictures of the process, but to be honest I was usually in charge of the hot glue gun so I don't have a ton.  Groups worked hard to incorporate at least one simple machine into their project.  Projects included a giant magnetic claw machine, sceetball, a foosball table, an air hockey table, pinko, a race car ramp, wheel and axle fishing rods with magnets, and a catapult felt target.
We even created our own green screen circus posters!
We tried to make homemade rock candy to show how sugar dissolves into water and how you can oversaturate a solution. Thanks to our wonderful volunteer for trying.  A few turned out, but it was a lesson in not everything you see on YouTube works. 🙂  I went out a got each Super Kid a rock candy for us to have when we get back from our break.
This past week I tried to have some fun activities that felt special to the students who did come to school.  We had a small number of kids, but they left happy and with a special art piece and a secret coded message for their parents.
On St. Patrick's Day we made a group leprechaun trap!  One Super Kids painted some rocks gold, two others painted a rainbow, and others used the design process to create a trap.  It had a ladder, a slide, a soft landing, and even some lucky charms so he could eat if he got hungry.  He took the gold and the lucky charms, but he left us a note, some smarties, and some green footprints!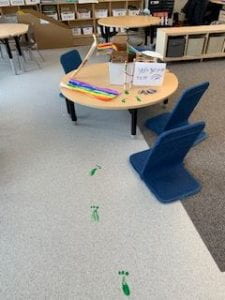 Mrs. Rempel and Ms. Jonkers had organized Skype call with the Elephant Sanctuary in Tennessee.  We joined them along with Mrs. Krahn's and Mrs. G's classes.  We all had just a few students so we meet in one room spreed out for social distancing and enjoyed learning about Elephants together.  All of the elephants that live there are from former circus performers.  Some were mistreated and now live a happy life.  Check out the link below to go to their website and view their live camera feed. If you're wondering what she is holding up…it's an elephant tooth!
I miss you Super Kids!  Enjoy your time with your families, share your learning with me, and stay healthy.  I'll see you soon. 🙂