Is it just me or is October flying by?  The Super Kids have been busy learning outside with our Phys. Ed and music teachers, building relationships with new friends, learning about how animals adapt to their surroundings, and diving into reader's and math workshop.
Thanksgiving was last weekend and many of the Super Kids celebrate with their families.  We talked about what we're grateful for.  Students shared that they are thankful for being back at school, their families, friends, pets, and of course their toys. 🙂 We dove a bit deeper into sharing that everyone has certain traditions and how traditions can be as simple as game night Fridays, sleeping over at our grandparents, or as elaborate as Chinese New Year.  We read the book "Balloons Over Broadway" by Melissa Sweet.  It tells the story of the puppeteer who invented the famous balloons in the Macy's Annual Parade.  Did you know that Macy's began the annual tradition because they had so many immigrant workers at the time that were new to USA and they wanted to show that they cared about them.  They wanted to have a tradition that reminded them of street fairs and parades from back home.
Each student created their own parade route and balloon float.  After learning about magnets and experimenting with what is magnetic and what isn't, each student took their balloon down their parade route.  They were so excited to show each other.
Students were then invited to create their very on turkey marionette.  It was quickly determined that two popsicle sticks were needed and a lot of patience.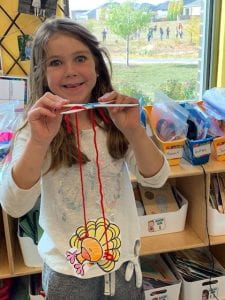 The next day the Super Kids became scientist.  What do we really know about turkeys?  With the help of some QR code videos and our favourite kids science research website we became turkey experts!
Next the Super Kids made our very own turkey art using watercolours.  We decided to make them a bit more abstract and colourful!  🙂
Daily routines such as binder work, word sorts, reader's and math workshop help the class develop their skills.  Below are a few pictures of the Super Kids working on their binder work, completing word sorts, and participating in reader's and math workshop. Movement breaks in between activities is important to keep us going!
How animals adapt to their changing environment has been a focus in science this month.  The Super Kids have learned about hibernation, migration, camouflage, and adaptions.  Can you see the animal?
We started our focus on owl adaptions on Friday. With the story "Little Owls Night".  The book focuses on an owl and his nocturnal friends that are awake at night.  We spent our Friday created our own little owls! We first did a direct drawing lesson on our white boards before tackling our lesson on watercolour paper.
Have a great weekend!