Well, it's a new year!  Welcome back everyone.  I hope you had a nice winter break.  I know I did with my family.  The holidays were very different this year being in code red in Manitoba and not being able to see our extended family.  We adjusted and had a lot of Zoom and Face Time calls!  Teaching my parents how to do that was a bit of a challenge. 🙂
I'm so glad that our class was able to be back together again after the holidays.  My daughter is in grade 9 and is home for the 2 weeks doing remote learning as mandated by the government.  It's challenging that's for sure!
The Super Kids are back in the swing of things.  It took a few days to get back into our routines and the kids were tired, but they were so excited to see each other.  This week we focussed on New Years goals, created fireworks during art class,  and creating our our STEM New Years noisemakers.
We started the week talking about fireworks.  My family set off fireworks on the lake on New Years Eve.  I shared the videos with the kids and they had a good laugh watching my husband run away after he lite them.  We watched them a few times to see how they looked in the sky and how we could see a variety of colours.  Using toilet paper rolls as our tool, we create our own fireworks!  They turned out so good!
Continuing with our New Years lessons we talked about the noise makers many people use to celebrate.  What is sound and how do we hear it?  When you use a noise maker how can we hear it?  The kids had so many great questions.  We dove in to find the answers to their questions. Using QR codes and experiments we explored what sound is and how sound waves travel to our ears.
Each student brought materials from home to create their own New Years noisemakers.  The kids had a blast designing, testing, and modifying their designs. We even played them together like a band. 🙂
We explored how sound vibrates by making our own string phones.  Each student wore their mask and the string was 2m.  The kids tried talking to each other with the string tight and loose.  They loved it!
We continued our New Years STEM exploring by looking closely at confetti poppers.  How do they work?  What makes the popping sound?  We learned about stored and kinetic energy before making our own.  We used Pom Poms as our confetti!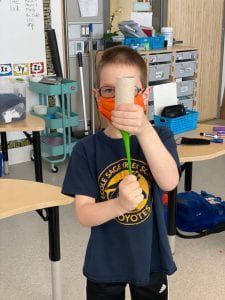 It was a"noisy" week, but so much learning happened.  Take care and stay tuned for more Super Kid adventures.  🙂