Spring has sprung! Ok.. I thought it had until yesterday when I woke up to snow on the ground and crazy high winds!  I guess that's spring in Manitoba.  I hope that my Super Kids and their families are enjoying their spring break.  I'm making the best out of the no travel situation with my family and enjoying some time together.
To get into the spring spirit our class read the book "The Tale Of Peter Rabbit" written by Beatrix Potter.
This children's classic was a favourite of mine as a kid and my class loved the story.  Thank you to the two families that sent in the classic book (a family heirloom according to the inscription in the front) and the Peter Rabbit stuffed animal after lunch that day.  These two treasures were perfect for our afternoon of art making.
Deep Space Sparkle has been my inspiration for art making for years and the Peter Rabbit project just jumped out as a perfect spring activity that incorporates our nutrition lessons, sketching practice, and spring!  Despite it being suggested for older students we tackled this lesson head on!  "There are no mistakes in art, just opportunities" is our art motto in our classroom and boy did my amazing kiddos enjoy creating their own Peter Rabbits!  We looked closely at the illustrations in to book and discussed muted colours and how we could make them with our watercolour paints.  We just loved how they turned out and so did our families.  So many families commented on the art project during our virtual student led conferences!
Earlier in the month I presented the class with a challenge.  St. Patrick's Day was coming up and we needed to catch a leprechaun! I told them that last year a leprechaun came into my classroom and played some tricks and we would get a wish if we could catch him/her this year.  Of course we would let them go and ask them politely for our wish.  To say the kids were all in would be an understatement! After reading "How To Trap a Leprechaun" for some inspiration, the kids got right into planning.  We reviewed what we knew about simple machines that could be used in our designs and made a list of materials that they needed to create their traps. Many designs included an incline plane, wedges, and even a few pulleys.
The day before St. Patrick's Day was our designing day.  Creating these STEM projects is one of my favourite things about my job.  The creativity, patience, and problem solving that happens during these times is amazing.  Kids develop critical thinking skills and have to pivot their designs when something doesn't work.  I love how it gives some kids the opportunity to shine and help others when they sometimes feel like they need the help in other subject areas.  Check out the Super Kids and some of their amazing designs below.
The next morning the class was so excited to come into the classroom.  Had we caught a leprechaun? They quickly ran to their traps and found a surprise waiting for them.  Footprints!!!
Traps had been sprung!  Nets were down! Secret hidden holes were pushed through! We didn't catch a leprechaun that day, but we did get a challenge from Lucky the Leprechaun.  It came in a small envelope addressed to our class.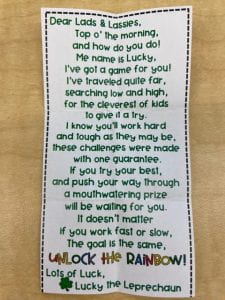 The class had to complete a series of activities to earn each colour of the rainbow to earn a price.  Each activity completed earn a matching coloured pipe cleaner.  The game board had a few detour movement breaks built it.  Our "Unlock A Rainbow" Day was a huge hit.  Activities included math problems, rainbow science, bubble science, a rainbow foods activity and much more.
It was a day full of making connections to our science units, math skills, and word work activities. The kids had a blast and I did too!
Once all the challenges were complete the kids had to create a rainbow with the correct sequence of colours with their pipe cleaners and some plasticine.
I wanted to thank the parent readers who volunteers their time to join us virtually this month to read a family favourite to us.  I know that many of you wish you could come into our classroom and volunteer, but unfortunately do to the Covid-19 restrictions we are unable to do that this year.  I'm crossing my fingers for next year! Thank you for spending some time with us.  I've added a few pictures of more parents that volunteered since our last post.
The week before spring beak our class concluded our nutrition unit with a focus on dental hygiene. Why is it important to brush our teeth? What does a dentist do?  What happens if I don't brush my teeth? We began the week with two experiments that lasted the whole week.  What would happen to an apple if we poked it with a pencil and created a "cavity"?  We observed the apple each day and discussed what would happen if we don't take care of a cavity.
The second experiment involved hard boiled eggs, Coke, vinegar, and juice. What would happen to the egg when placed in the liquids?  What does this experiment show about the enamel on our teeth?  When we brush the stains do they go away?
Have a lovely spring break and Easter for those families that celebrate it.  Take care and I'll see you next week. 🙂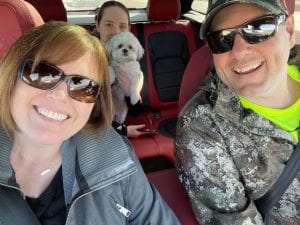 Mrs. Didyk 🙂