This past Thursday was Earth Day and the Super Kids classroom has been spending the month of April learning how they can make a difference.
One of the science clusters in our curriculum is water and air.  This inquiry is a natural fit for our discussions about sustainability, the 3Rs, and alternative sources of energy.  During our inquiry on the Arctic, we learned about how global warming is changing the habitat of the animals.  This concerned the kids and it was a natural transition into our water and air unit with a taking care of our planet twist.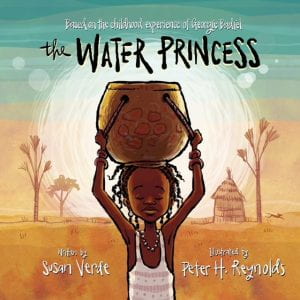 We began our water discussion by reading "The Water Princess" by Susan Verte.  It's a storybook based on the true story of a girl who brought water to her family every day and when she grew up, worked to bring wells to villages like her own.  Click on the link below to see the woman who inspired the book read her story.
So many questions were asked. Where does water come from?  How come she didn't have water or a well in her village?  Where does ground water come from? How do you clean water from a river? It snowed the next day so I filled a jar with muddy water and I asked the kids if they would drink it.  Of course they thought that was a terrible idea.  How could we clean the water?  We learned about water filtration with the help of "The Magic School Bus At The Waterworks".
We filtered the water through small rocks and sand before boiling it.
This experiment convinced the kids that everyone in the world has the right to clean drinking water. We continued our examination of water by reviewing the water cycle and learning the difference between fresh and salt water.  How can we keep our oceans clean?  Learning about the pacific garbage patch really bothered the kids.  They can't understand why people can't just clean it up. By watching videos and reading stories about the problem, they decided that recycling and reducing the amount of plastic we use is a big part of the solution.  One Super Kid said "You mean it's so big that adults can't figure it out?  Ok…I guess it's up to us to solve the problem."  🙂 After my heart melted I realized she's right.
Next we focussed on alternative forms of energy and air pollution.  We learned air pollution is a big part global warming.  We also learned about solar and wind power.  Just south of our city there are wind farms producing clean energy.  How does this work? How does wind create energy?  We started by learning about windmills.  Windmills have been around for centuries.  They were used to pump ground water too.  We read the book "The Boy Who Harnessed The Wind" and found out that a 14 year old boy brought electricity to his family and water to his village during a drought.  He reused parts from the trash and learned how to build a windmill from books.  Kids really can make a difference!
His story was turned into a Netflix movie. The boy grew up to talk at the TED conference and graduated from Dartmouth University.
We created pinwheels to test out how air can move a windmill.
The Super Kids used our Bitmoji Classroom during reader's workshop to explore more about the 3Rs, when Earth day started, and much more.
Armed with their new found knowledge, the class recorded 4 newscasts that they shared with the whole school the week of Earth Day.  Each day teachers shared our latest video with their classrooms.  We got many thank you e-mails and the kids were getting recognized at recess as the news kids.  Check out links to our newscasts below.
Mr. Bryan our school's custodian showed us the amount of recycling our school made in just half a day!
Earth day was filled with activities.  We stared out on a Zoom call learning about planting through storytelling.  We even planted our own bean plants to take home.  We also created seed houses that we put in our window to watch the water cycle and the sprouting of a seed.
Next the Super Kids created their own Earth day art project.
Then it was time for a neighbourhood clean up.  We even meet a nice lady who thanked us for helping our community! 🙂
We put all of our Earth Day writing and art work into our own reusable bag that we decorated for home.
Let's make everyday Earth day!
Take care.