This past Wednesday our class participated in "Take Me Outside Day".  Winnipeg got it's first snowfall the night before so it was a perfect setting for some fun!  The kids came to school dressed for the weather and very excited about the snow.  We started our day outside at our school's outdoor classroom.  The kindergarten class was kind enough to open their door so we could hear Oh Canada and the morning announcements.  We phoned in our attendance and the kids loved being on speaker phone with the secretaries.  They asked about our plans and told us that they wish they could join us.   Our backpacks went on a tarp and we got started with our morning meeting.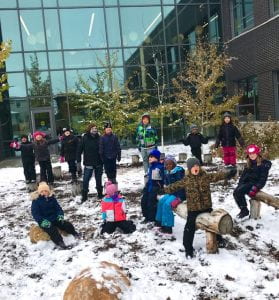 Our morning message, sharing time, turn and talk, and activity all happened outside.  The class wrote their names in the snow, made snow angels, and even had a few minutes before music to play together in the fresh snow.
Then off we went to see Mrs. Styles for our outdoor music class.
We headed inside after music for our snack time and bathroom breaks before heading back outside for recess.  The class meet me at the outdoor classroom where we read a story and played animal adaption charades.  Each student pulled a card from the bucket with a Manitoba animal on it.  The challenge was to act out the animal for the class to guess.  If a friend guessed the animal then they had to tell how they adapt to seasonal changes.  This was a fun way to show our science learning with each each.
We wrapped up our outdoor morning with some buddy reading.
In the afternoon we played guess my number for math at the outdoor classroom stumps, created bird feeders with wow butter and bird seed, went on a place value hunt , had some play structure time, and ended the day with Phys. Ed.  There were some pretty tired Super Kids when they went home!  It was a great day of learning and community building!
On Thursday we had a virtual field trip to the Manitoba Museum.  Since we can't go on field trips this year due to restrictions, we're trying to find the best learning options for our students using virtual trips.  We were excited to explore the museum with our guide and talk about Manitoba animal adaptions.
I hope everyone has a fun weekend with their families.  Stay tuned for more Super Kid adventures!