Each year our school division has a seniors/grandparent day.  Each school does it their own way, but the over all purpose of the day is to welcome these special people in our student's lives into our school to share with them how we learn.  School has changed a lot since they were in school and I always find it fascinating to hear comments and stories from our guests. We welcomed guests in the morning and another set of guests in the afternoon.  The morning group walked into our morning meeting underway. The kids were divided up and were having a rock, paper, scissors challenge!  Nothing like walking into a rowdy bunch of kids! 🙂  With smiles on their faces our guests sat down and watched the rest of our challenge.  We stopped every once in a while to compare the number of kids on each side, determine what was bigger, how many more, and other relatable math questions.  Next it was on to reader's workshop.  Students divided into their groups for spelling practice, read to self, read to others, word work activities, QR code activities, and RAZ kids.  One grandparent asked me how they know what to do.  I replied that it was our routine and that new activities are introduced to the whole group way before they are used in our literacy groups.  She couldn't believe how on task the kids were.
The afternoon was a bigger group of guests.  We dove into math centres to share our mathematical thinking and how we learn new concepts.  Grandparents rotated with their grandchild's group to different stations that included filling in a 100 chart, 3D shape making, a card game, a subtraction dice game, and a place value game.  Grandparents were eager to jump in and learn with their grandchild!
Thank you to all of our guest for joining us in the Super Kids classroom!  We hope you enjoyed spending time with us.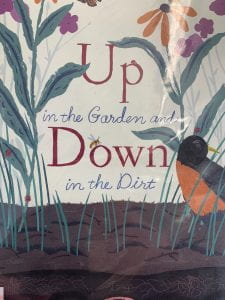 I read the book "Up In The Garden, Down In The Dirt" to the class which inspired our latest art lesson.  Using the prior knowledge that the kids gained through our cooking lesson, we discussed what food grows above and below the ground.  Check out a few examples of our latest creations below!
Easter was last weekend which inspired a STEM challenge Thursday afternoon before the long weekend.  Kids were put into random groups, giving two containers of play dough, and a package of plastic Easter eggs. Could they work together and build a tower to hold a chick?  Some groups dove in and started trying and modified their designs over and over again, some groups found it difficult and had to have adult help to help them talk about their thoughts, others grabbed whiteboard and started drawing their thoughts to share with each other before settling in on a design.  It was fascinating and a lot of fun!  Yes, that is a egg crash helmet on the chick in one of the pictures!
Earth day was on the 22nd of April and these two Super Kids dressed for the occasion.
Throughout the school year our class has been focusing on our planet how where you live affects how you live and how the Earth changes quickly and slowly.  The Super Kids are concerned about the air, water, rainforests, and animals of our world.  "A person's a person no matter how small." Dr. Seuss said and we live by it in our classroom.  Everyone can make a difference. We discussed how we can help and read several books about the 3 Rs.  We also turned our lights out and read with flashlights.  This was a big hit!
Our school has an amazing parent council!  They work hard to help our school have special events, hot lunches, and support our staff.  We had an amazing staff appreciation week where we were spoiled!  Special snacks, lunch from the Old Spaghetti Factory, gifts, a candy bar and this amazing cake! Thank you very much to everyone who helped put the week together!