Well…the government of Manitoba has moved all schools in Winnipeg, Brandon, and some other communities in Manitoba to code red.  All schools in those areas moved to remote learning as of May 12th.  Critical worker's children are allowed to continue to come to class in elementary schools.  These kids have been put with other children within their cohort in the same situation.  I have been deemed an in person teacher.  I now have children from 4 different classes in my classroom learning together.  6 of my students are my original students and the rest are new.  My remaining students have been welcomed into my colleague's remote learning classrooms for the remainder of code red. May 31st is the timeline at the moment.  We'll just have to see if the number of cases in our community goes down enough for that to remain the date.
So we adapt, take a deep breath, and pivot.
My mind goes to the Friends episode with Ross, Chandler, and Rachel moving the couch. 🙂
Then I remember that kids are adapting and have all year.  They will be ok.  They just need to know that the adults in their life are there for them.  That's what I keep reminding myself during this year with my own daughter and her school experience.
My amazing students, old and new, are adapting.  One positive in this situation is that they are meeting new friends that they didn't have the opportunity to get to know do to our restrictions.  New friendships are being formed as we begin to navigate what this will look like.  I've been told by my colleagues, that my students in their remote classes have been so kind and lovely.  This is no surprise to me at all!  Thank you to those families that are at home with their kids navigating remote learning and with a different teacher on top of it all!
I wanted to take a few minutes and highlight what our class had been working on up until the announcement on Mother's Day  and what my new temporary class has been up to the first few days.
These past few days my new class of students have been busy getting to know each other and establishing a routines together.  To be honest it has felt like September in May!  We creates our own pattern spinners on Thursday that were a huge hit!  They are very easy to make so my Super Kids learning from home might want to give it a try.
We've also been making predictions and experimenting together in fun ways that make us smile and help us get to know each other!
After the announcement last Sunday, many students in my class stayed at home.  Those that did come to school for those last three days together before the shift, wrote a letter and sent a hug to a family or friend that they haven't been able to see through the lockdown.  We hope we make our loved ones smile.  I will be mailing them this week.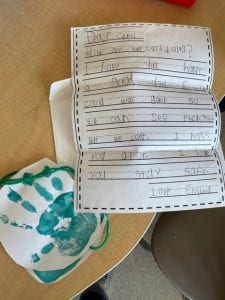 Before the shift to remote learning, my class was in the middle of our air and water inquiry unit.  We had learned about windmills and how they work to provide energy and water.  We examined how windmills were important in the past and even examined paintings by the famous artist Claude Monet.  He loved to paint landscapes.  He often painted windmills in this landscapes from Holland.  He spend a lot of time there.  We created our own windmill art pieces inspired by his paintings.
We were also learning about weather tools and had created our own weathervanes.  The Super Kids learned about directions and how to read them on their weathervane.  After testing the out on a windy day, we discovered that the wind was coming from the Northwest.
Our sprout houses didn't only start our bean plants, but gave us an up close look at the water cycle right on our window!
Have you played Guess Who as a family?  This game practices questioning, deductive reasoning, and taking turns.  You can play it socially distanced and have a great time too!
Math games that work on developing our number sense and growing patterns have also been a focus these past few weeks.  These games can be played individually or with a partner.
To celebrate our mothers and special ladies in our lives the class wrote a special card, framed their tulip art work, and made lemon bath salts. The rose cards were made by chopping off the tops of a celery stock.  We used the bottom as our stamp to form a rose. 🙂 We hope our moms loved their gifts!
Each morning our class has a morning meeting that beginning with a writing prompt.  This is continuing to happen each day in our new situation too.  The students respond to the prompt in their writing books.  Then a morning message is read as a class followed by some distanced partnered work.  Each day there is a chit chat, which is a question for the class to turn and talk about with a partner followed by a math problem that they discuss with the same partner.  The morning discussion wraps up with the class being inference detectives.  What can they infer about a picture.  Honestly this is one of my favourite parts of the day.  The connections to experiences, lessons, and their families is great to hear.  When we first started doing this step it was difficult for them to make connections.  Now its hard to move on from our discussions because they have so much to say!
Have you heard of Cosmic Kids Yoga?  Our class loves to follow along with some yoga on day when we don't get Phys. Ed It helps get our bodies moving and it also helps focus our minds for our tasks during the rest of our school day.
On the last few days before the announcement, our class completely some lovely flower art that we hung on our classroom bulletin board.  We learned about artist Georgia O'Keeffe and how she painted flowers close up.  Her paintings give you the feeling of being a small bug on a huge flower!
We were inspired to make our own colourful flowers using our knowledge of warm and cool colours.  The kids are so proud of them.  They really brighten up our room!
That wraps up our last few weeks together.  I'm crossing my fingers that this situation is temporary and I will get to have my whole class back in June.  I appreciate each an every one of your families.  Thank you to my class' families for your support this year as we have navigated what this school year would look like.  It has been a joy to spend my days with your children!  Thank you to my new student's families for helping your children adjust to this new situation.  Your kind e-mails or support over these past few days have been lovely.
Here's to getting through this together!
Yes I do realize my vaccination sticker is upside down in my selfie.  My daughter was quick to point that out. 🙂
Take care and stay safe.