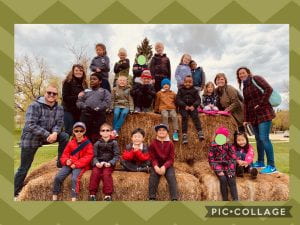 With our Social Studies focus on the past, timelines, and how things have changed, it seemed like a great fit for the 1/2 classroom at our school to take a step back in time. Last Friday we visited the Mennonite Heritage Museum in Steinbach Manitoba. We spent the day learning about how original settlers to the area lived.  We looked closely at artifacts and tried to figure out how they worked.
A one room school house, wagon ride, working windmill, and feeding the animals were all part of our adventure!  We found old chalkboards, math tools, and books in the school.  "You mean you would have to live at the school Mrs. Didyk!" One Super Kid couldn't believe when we were told that the small room in the school was for the teacher to stay.  The people that work at the Museum were kind, knowledgable, and willing to answer our questions.  What a lovely day! 🙂
Leading up to our field trip our class used our five senses to examine artifacts from long ago. How we listen to music from an old 100 year old radio, a record player CD player, to our phones.  It was fascinating to hear what the kids thought each one was and how it worked.  We also examined phones and how they have changed over the years.  We even looked at an original Bell phone from 100 years ago!  "Where are the numbers Mrs. Didyk?" What a great question…we had to think really hard about that until one student said, "What about an operator?"  Unfortunately, I didn't take any pictures of these lessons.  We were too busy exploring.
The idea of the past is a very big idea for 5-7 years olds.  Using artifacts for them to explore is a way of making sense of an abstract concept.  This inspired us to start a timeline our year together.  One of our Super Kids came up with the idea!  What if we make a timeline of our year together?  How could we do this?  We came up with using our months of the year that were already on our wall and rearranging them starting in September.  Each month we add what we did and watch our time together develop.  Our next step is to make a timeline of our lives with at least 4 highlights using pictures.  To say the kids are excited for the challenge would be an understatement.
Dr. Cassie Ali from Lens Crafters was a special visitor last week in our classroom.  In science we are learning about how scientist use their senses to help them understand the world around them.  When we were talking about how optometrists are doctors who help us have healthy eyes, one student told me his aunt is an optometrist. Of course I had to contact his family and see if we could arrange a visit.  Dr. Cassie explained the parts of the eye, what tools she uses, how we can protect our eyes, and all about UV rays.  The kids were so intrigued.  I even had one come back to school the next day and tell me that he gave his dad an eye examine and told him all about what he learned. 🙂
We had a CRAZY storm over a week ago and it scared a few of the kids as they were coming into school in the morning.  The sky was black.  It looked like night time with loud thunder and flashes of lightening.  To calm everyone down we became scientist and learned about what thunder and lightening really is, explored static electricity with balloons, and even turned off all the lights and read with flashlights.  The storm changed my whole plan for the day!  To be honest…these kind of drop everything and go with it days are my favourite.
Reader's workshop and math workshop are in full swing in our classroom.  We are working on developing our growing number sense through hands on math games and small group instruction.  Our book clubs (reading groups, but book club sounds more interesting to us) have started and each group is focussed on developing their decoding and comprehension skills.
Ms. Englot's grade 5/6 students are our learning buddies this year.  We look forward to many great activities together.  The last time they visited us we rotated through apple math centres.  Each station had student estimate and measure or make a prediction.  Centres included:
Will the apple sink or float?
How many teddy bear counters will equal the weight of my apple?
What length of string will go around my apple?  Was it smaller, just right, or longer?
How many seeds are in my apple?
How many blocks tall is my apple?  Estimate and measure.
It was a fun afternoon with a tasty treat at the end of it.
To calm our bodies for learning sometimes we just have to do a movement break.  These breaks can Go Noddle videos, Just Dance clips, or even Cosmic Kids Yoga.  Check out the clip below to see our favourite dance break!
.
You're all caught up with our adventures so far!  Stay tuned. 🙂