Well…that's a wrap on another school year.  I can't believe that the past three months happened!  It feels like a complete blur to be honest.  We went from school as usual to remote learning in one press conference.  Two weeks turned into three months.  Thank you to all of the Super Kid's families for going on this journey with me.  Thank you to Mme. Chantal and Ms. Mackay our two amazing educational assistants who worked with several of our students through the first 2 months of this process!  They are remarkable woman that I have had the pleasure of working with these past two years. 🙂
As families juggled work, remote learning, and family responsibilities.  I tried to do the same. How do you teach 6-8 year olds remotely?  How do I help my own daughter with her remote learning?  How do I help my husband and our family pharmacy business with more demand?  Yep…a complete blur.
I am so lucky to have an amazing 1/2 team!  We put our heads together and developed our weekly plans together.  I can't imagine being a "lone wolf" during this time.  Five heads really are better than one!  Our focus this term was to integrated our lessons just like we do in our classrooms so that there wasn't stand alone subject areas.  Our overall themes were community, 3D shapes, and life cycles.  We focused on getting our bodies moving, using measurement when helping our families cook, made play dough, completed stem challenges, and art projects! There was so much families could do with those themes at home, and they did. I did daily morning meetings with screencastify, guided math and reading lessons with Microsoft TEAMS, posted daily story time  and math challenges, created a YouTube channel, class meetings, and had the opportunity to finally meet with some students 1-1 at the end of June in person.  The tech learning curve was huge!  We all struggled to learn the new technology at the beginning, but it had to be done so I could reach out to my kids and help them process this strange new situation.
Math game videos, science experiments, and so much more were posted on our padlets.
Students either posted their learning on our classroom padlets or e-mailed me their work.  Lessons were filled with laughter and I'm so glad that so many educational websites offered their platforms for free to teachers and their classrooms.
Our class has a subscription to RAZ kids already, but other companies offered their services for free and I jumped at the opportunity to have other platforms for my students to explore.  Thank you to EPIC books, Scholastic Bookflix,  and PM Benchmark Books for letting us use your services to help guide my lessons.  When kids can't get to the library, EPIC Books was the next best things.
Bookflix guided our weekly lessons with books that fit our themes, and PM Benchmarks provided guided reading books at my student's level for our group guided reading lessons.
http://teacher.scholastic.com/products/bookflix/#/
June was full of activities meant to put our learning from the term all together. Students were asked to create their own community.  To use their knowledge of community helpers, 3D shapes, measurement, and so much more when creating their community. We had a virtual classroom full of links for the students to follow and help guide their plans.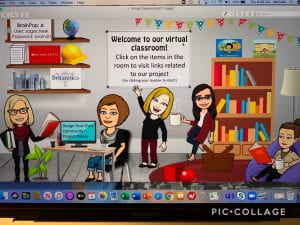 Boy did the Super Kids rise to the challenge.  So many created surveys for their family members, used their recycling bins, and got creative.  They were so excited to share their projects with me either 1-1 during our time at the end of June or on a TEAMS meeting.  This activity was a final project that incorporated all of our learning from all subjects.  Student read, wrote, created, explained, and really dove into the project.  We had everything!  Sports themed communities, a pizza community, a dinosaur community, a space community, and so much more.
Each Super Kid received a "Flat Mrs. Didyk" in the mail along with some suggested activities we could do together.  The students LOVED this idea! I made a "Flat Teacher" for each of the grade 1/2 teachers and it became a fun activity for all the students in our 5 classes!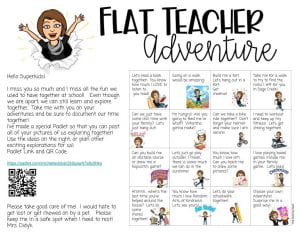 To encourage our families to get outside the 1/2 classrooms created a "ESCS Rocks" challenge.  We each painted 20 rocks for a total of 100 rocks that we hid all around the trail in Sage Creek.  We challenged our students to go and find them.  So much fun!
Outdoor Learning Activity Board
Healthly living through yoga links, outdoor classroom suggestions, healthy snacks and making dinners using the food groups and meausring tools were a big hit!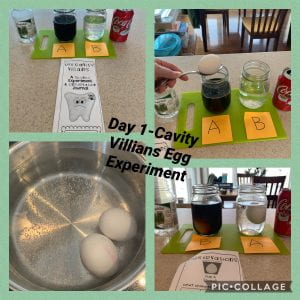 Life cycles was our focus on science this term. We observed plants and even raised some painted lady butterflies.
Yesterday was our teacher community parade.  We wanted to thank our community for their support and celebrate our Ecole Sage Creek School community for working together through these challenging times.
Thank you again to my amazing students and their families!  I'm looking forward to seeing you in the fall!  Enjoy your summer and stay healthy. 🙂
Mrs. Didyk